Audiomatter and RadarTable on SPOT festival
At the SPOT festival held in Aarhus in the beginning af may 2013 CAVI presented both RadarTable and a brand new interactive musictable – Audiomatter. Audiomatter is created by the group Bitcrushers affiliated to CAVI, and this were the first public launch of their work with the interactive table. Both installations were presented at Godsbanen in the public foyer area.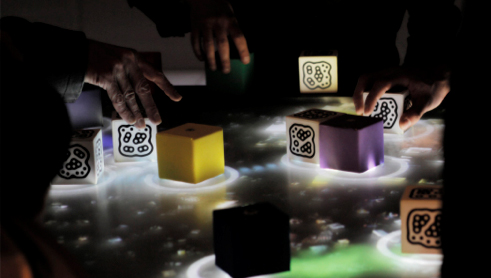 AudioMatter is an interactive music concept that invites you into the musical universe of different artists. Intuitive, minimalistic interfaces allow you to interact with musical "building blocks" in the form of structures, harmonies, timbres, and melodies. You go from being a passive listener to being the co-creator and remixer of what you hear – and the music goes from being a monologue to being a dialogue between you and the artist.
RADARTABLE is an interactive, audiovisual installation, a musical instrument, and a platform for creative and social interaction. It allows the audience to express themselves musically and collaborate with each other to influence their concert experience – even if they normally have no prerequisites for playing music. RadarTable is produced at CAVI – Aarhus University, supported by the Municipality of Aarhus and the Ministry of Culture, Denmark.
The musician and producer, Henrik Munch, has composed the musical foundation which comes to life through the audience. By placing and interacting with tangible cubes on the table surface, the audience defines how the music should sound and how it will evolve.